Happy almost-Halloween! We love these photos of our students volunteering at last night's Haunted House at the Athletic Recreation Center in Brewerytown.  Service comes in many forms, from helping to haunting!
Today marks the end of Session One, which is YB-speak for the first six weeks of vocational training and academic preparation. After a transition week, students currently on the worksite will switch over to academics and vice versa.  We can already see big changes in our students at the end of this first session, and a vibrant school community has formed.  Here are a few highlights from this week.  No more scary masks from this point forward, we promise!
Automotive Day at Community College of Philadelphia
Although school only started last month, students are already exploring career and college options through field trips and college tours. For example, this week our Postsecondary Career Development department took a small group of students to the Community College of Philadelphia's West Philadelphia campus to learn more about the Automotive Technology programs offered there.
Engaging Academics
From writing autobiographies to isolating strawberry DNA, students who started the year in academic training have shown consistent creativity and curiosity in the classroom. The student who took these pictures in her science class remarked, "science class at YouthBuild is way better than your average high school!"
Hands-on Vocational Training and Service
Students in vocational training this session focused not only on developing their technical skills and professionalism, but also on using those skills in service to the community. For example, our Business Administration Scholars put their customer service and administration skills to good use at SHARE Foods, a community food bank in North Philadelphia, by packing and managing the food inventory.  During the last week of Session One, many Academic teachers visited worksites to see what their students had been up to and to start building relationships with students in anticipation of next session.  Here's Language Arts teacher Ms. Sandra making a difference at SHARE:
After-school service opportunities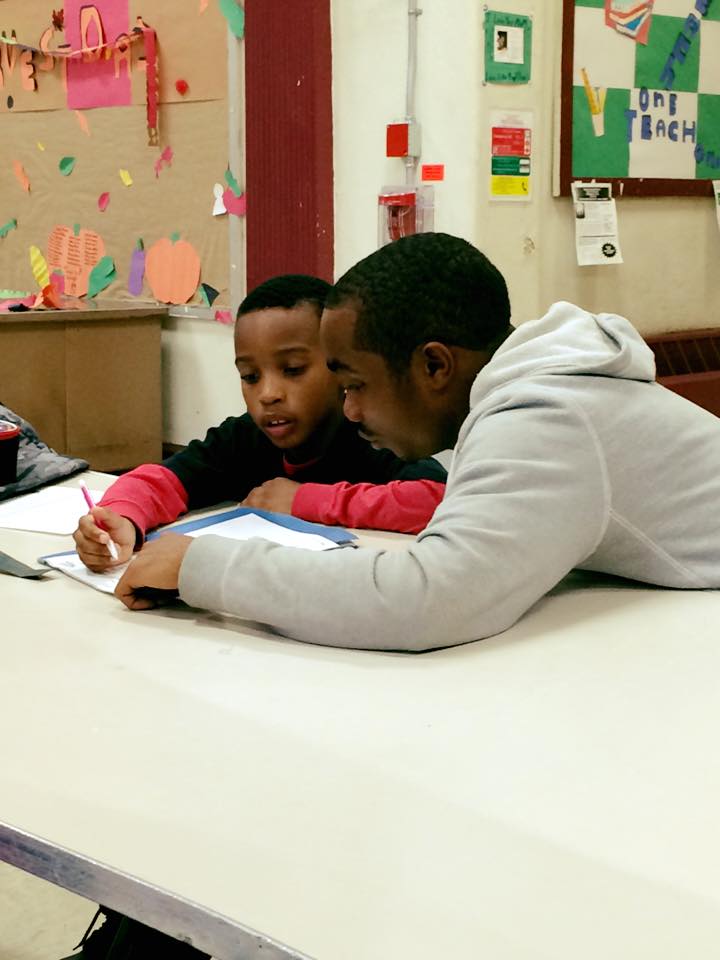 Our Community Projects Coordinators are working hard to connect YouthBuild students to service opportunities throughout the city.  In September, CPCs organized over 50 hours' worth of service opportunities for YouthBuild students, and have even more planned through December. Service offers YouthBuild students an opportunity to develop their leadership skills, connect with a broader community, and enjoy the experience of giving back.  We love this photo from a math tutoring session earlier this week!
This is just a small sample of photos representing all that happens in a week at YouthBuild. We've had a great first six weeks, and are looking forward to next session!