At YouthBuild Philly's core, we are committed to creating the right conditions for young leaders to transform their own lives. Our work is creating relationships that shift education experiences from transactional to transformational. Last year, we updated our mission statement to refer to YouthBuild graduates as "critically conscious leaders, committed to positive change for themselves and their communities." This statement reflects the commitment we make to support the growth of learners beyond earning a diploma and vocational certification. Our mission reflects the belief that young people have the talent and passion to transform themselves and their communities. We are deeply appreciative of your interest and support for YouthBuild, and invite you to make an investment in transformation over transaction.

Starting with our first graduating class in 1992, more than 2,700 young people have earned a high school diploma at YouthBuild Philly. Many of these young leaders have gone on to amazing leadership pathways to help make sure things go right for themselves, for their families and for their communities. This year, we highlight three YouthBuild Philly alumni who have brought their time at YouthBuild full circle by continuing to work with a YouthBuild partner, as a YouthBuild partner, or at YouthBuild itself. We hope you enjoy learning more about the journeys of Crystal, Dana and Isaiah.

These three graduates are a very small but representative sampling of our alumni network who continue to make a positive impact across Philadelphia within their families, careers, and communities. Through a commitment to service and leadership, YouthBuild students and graduates have been able to touch tens of thousands of lives across the city, spanning career paths from building trades to business. YouthBuild Philly's commitment to creating meaningful workforce development opportunities has led to dozens of employment and training partnerships. We are proud of the leadership roles graduates are playing within PowerCorps PHL, Gap, Inc., ECFMG, Saint-Gobain, and many more.

As you read this, we're excited to be moving toward the pending launch of our social enterprise cafe in West Philadelphia. Since 2014, YouthBuild Business Administration Scholars (BAS) students have run an in-school cafe catering to students, staff, and in-building visitors. Our new off-campus venture will allow our students to gain hands-on experience staffing and managing a community-facing cafe. The cafe will also support deeper relationships with community members in West Philadelphia. We look forward to a grand opening event in early 2020, and hope that you will join us.

In sharing the stories of transformation represented by Crystal, Dana and Isaiah, we are asking for your support to create the conditions that empower more young people to realize their inherent leadership potential. An investment in YouthBuild Philly allows us to support the transformational leadership pathway of students and alumni in many ways:

classroom upgrades to design and plan for meeting the range of learning strengths and needs of students
worksite materials and supplies to provide hands-on job training, as well as a safe, OSHA-compliant setting
need-based grants to help students address out-of-school challenges such as housing, transportation, child care, and medical expenses
technology investments to prepare graduates for competitive employment and advancement opportunities
elective courses and clubs for leadership development, film making, holistic wellness, art therapy, music production, LGBTQ+ support, and more
college and career exposure events with partners, volunteers, and guest lecturers
enrichment opportunities and trips such as a Spring Break service trip, volunteering in communities impacted by natural disasters
college and trade school scholarships to offset the financial burdens of higher education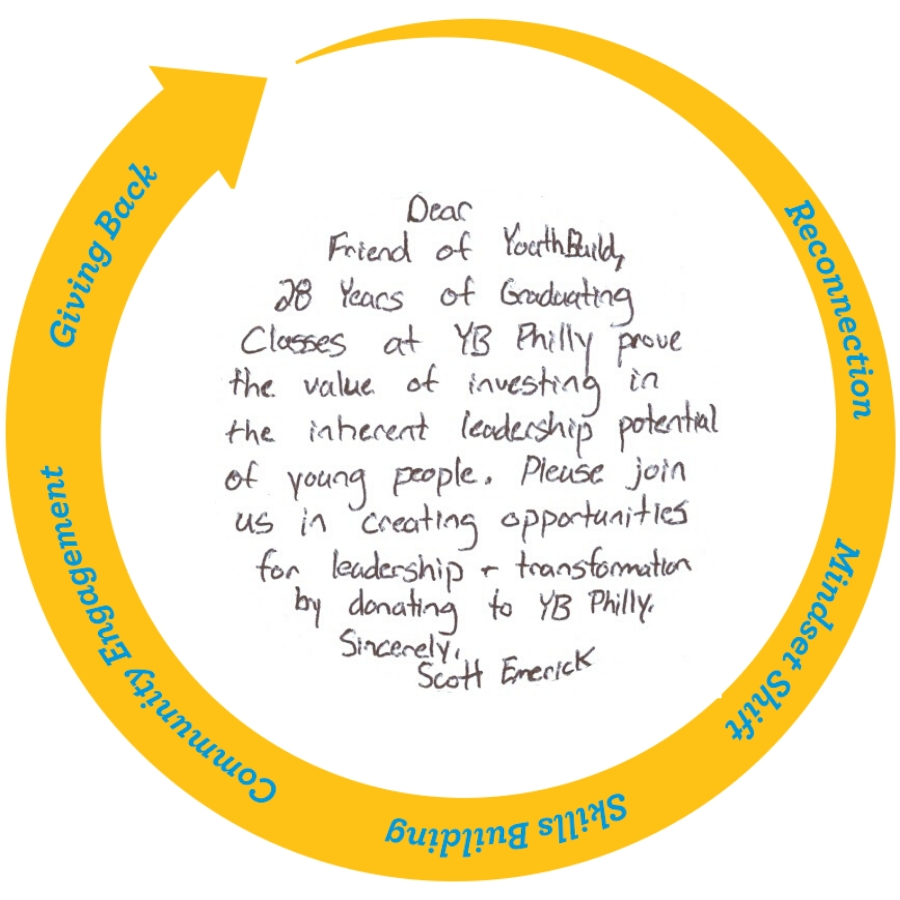 We sincerely appreciate your support for our school, and hope that you will consider a financial investment this year to reinforce your belief in creating conditions for transformational leadership pathways with young people. Any size gift helps to share YouthBuild with more young people, and create a full circle transformational effect on our community as graduates give back.

We hope that you will consider a gift to YouthBuild Philly this year to affirm your resolute commitment to YouthBuild and the young people we work with. Please click here to make your gift online, or contact our Individual Giving Manager, Ted Molloy, at 215-627-8671 ext. 34 or tmolloy@youthbuildphilly.org if you have questions about how your gift will be used, or if you would like to support our school in another way.
Thank you for your continued support of YouthBuild Philly. Gifts from our past donors have changed thousands of lives – we hope that you will join us this year in changing hundreds more.

In solidarity,

Scott Emerick
Executive Director