YouthBuild Philly's updated mission statement refers to graduates as "critically conscious leaders, committed to positive change for themselves and their communities." This statement reflects the commitment we make to support the growth of learners beyond earning a diploma and vocational certification. Read on to learn about three YouthBuild Philly alumni who have grown tremendously beyond their time at YouthBuild and have brought their YB experience full circle as they continue to work with a YouthBuild partner, as a YouthBuild partner, or at YouthBuild itself. We hope you enjoy learning more about the journeys of Dana ('92), Crystal ('17), and Isaiah ('15).

Dana '92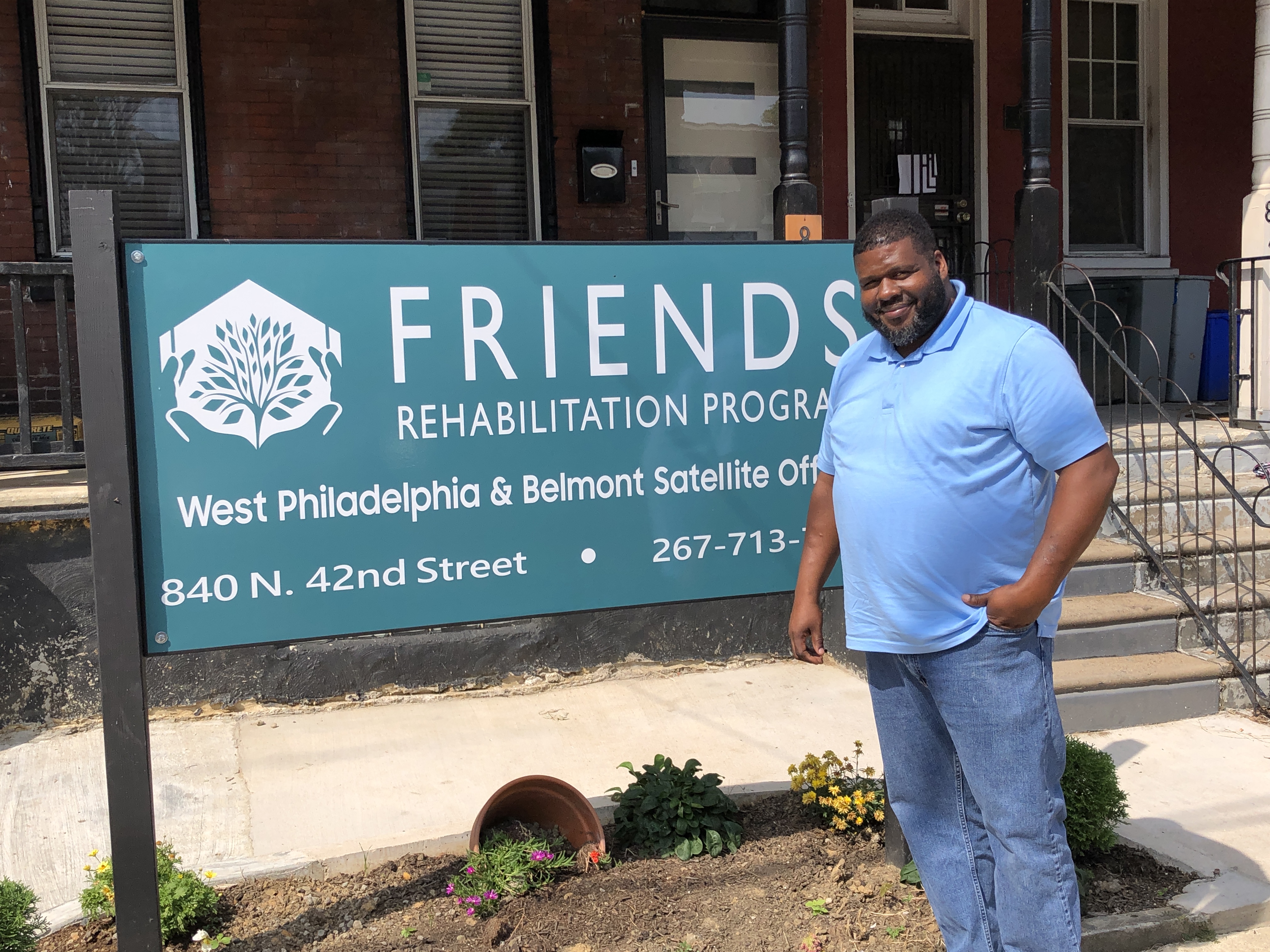 Dana (Class of 1992, YouthBuild's first graduating class) attended two high schools before discovering YouthBuild with the help of a guidance counselor. He left his first school after a series of fights with other students at a time when Philadelphia's neighborhood rivalries were especially heightened.
His father, a youth pastor and small business owner, gave Dana a choice. "My dad said I could either stay in school or work with him in his poultry shop" – Dana chose the latter, though his time there was brief. He re-enrolled in school, this time at one in his own neighborhood, but knew from his start there that he'd graduate a year behind his same-age peers due to his time away from school.
YouthBuild Philly got off the ground the summer after Dana's 11th grade year, and at the time catered to young people just like him who were not on track to graduate on-time. His guidance counselor at Bartram High School contacted him – "she asked me 'do you still want to graduate on-time?' and told me about a new program that would give me that chance, as well as provide training in carpentry." Next thing he knew, Dana was interviewing with early YouthBuild staff, and even founding Board members, to get a feel for the school.
Dana weighed his options and decided to take the leap into YouthBuild, and from the start became a leader, participating in the school's Youth Caucus alongside staff to determine climate and culture aspects of the new school. In this year at YouthBuild, Dana also met instructor Don Pinkney, who he remains close to today – "Don just makes me more committed to lifelong learning; he has such a calming and relaxing presence."
Immediately upon graduation, Dana began his career as a laborer and has made numerous professional relationships which he still holds closely today. Now working as a Maintenance Supervisor with Friends Rehabilitation Program (FRP), Dana has been able to bring his time at YouthBuild back full circle – this time as a workforce development partner.
Much has changed at YouthBuild Philly since that summer of 1991, but our commitment to youth success in the community has held strong. YouthBuild Philly's GreenBuild track is now working on an FRP-owned abandoned mansion in West Philadelphia, rehabbing the property for multi-family residential use in the near future. In working with YouthBuild Philly, Dana's commitment to the next generation and Philadelphia's future has grown even stronger, as he realizes "the young man or woman you're investing in today will very likely be the leader you need tomorrow" – and he himself is a walking example of this.

Crystal '17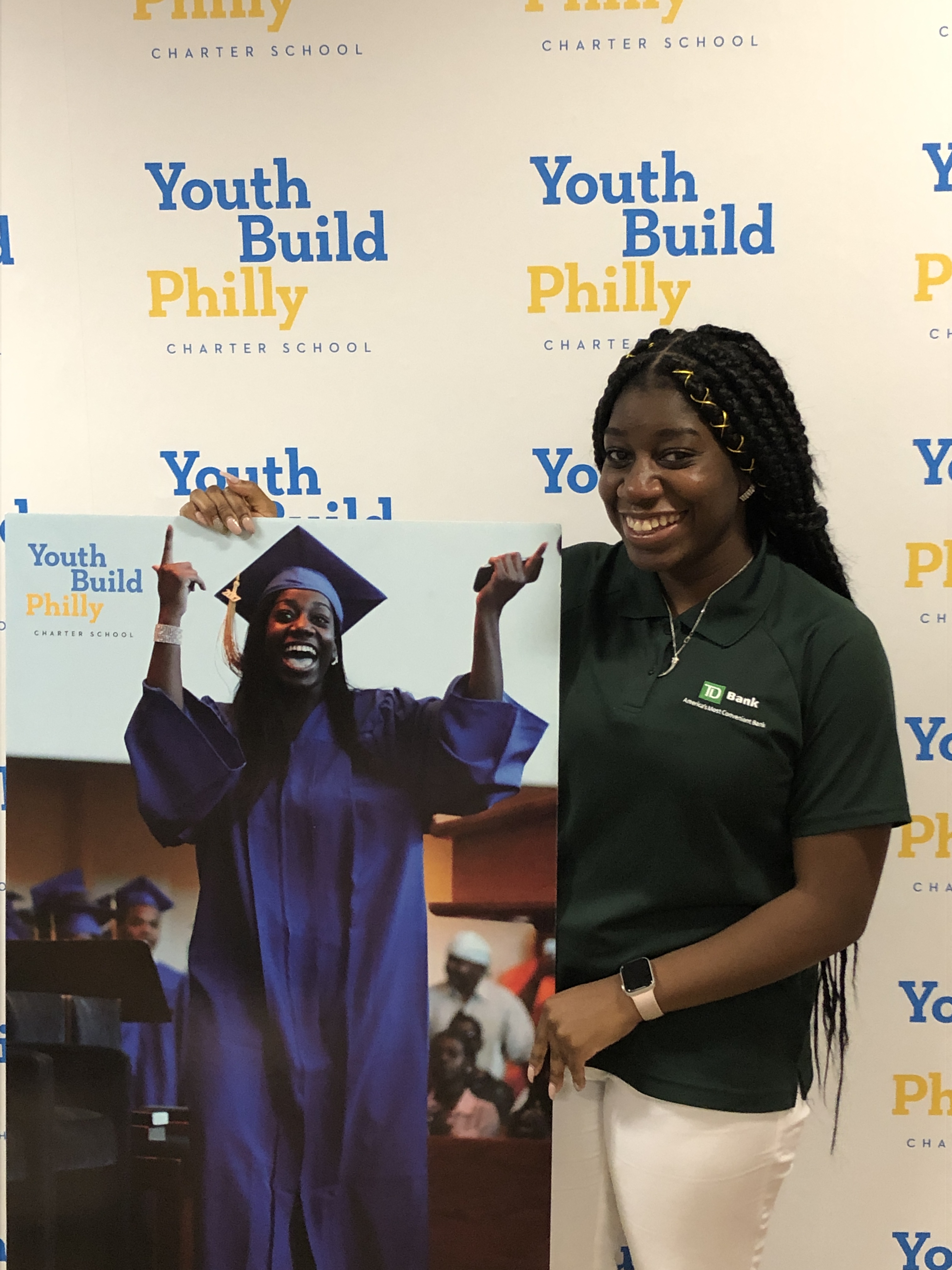 Crystal (Class of 2017) had a good job and felt financially secure before applying to YouthBuild, and didn't think she'd follow through on enrollment. In the month before Mental Toughness Training, however, things turned upside down when the family member she was living with was evicted from their apartment. "I lost everything – I only had the clothes on my back, which I wore for a week," she recalls. To make matters worse, she lost her job while trying to sort out her housing issues; this drove home that it was time to go back to school and build a career.

Upon enrollment, Crystal faced family issues that impacted her attendance. "For my first session, my attendance was 32%; the second was 54%," she remembers vividly. Through these struggles, her mentor Ms. Jackie kept pushing her – "she supported me outside of school, and even helped after hours – that was a huge impact on me." Once her family issues were resolved, she poured herself into school – "I was happy to come – I stayed until 6 pm most days." Crystal's resilience paid off – she had over 90% attendance in her final session.

Crystal's support team turned out in a big way for graduation, creating one of her favorite YouthBuild memories. "My grandmother told me my mom wasn't going to be able to make it, but as I walked across the stage, I looked up and saw her, and just had this huge smile on my face" – a smile which has since been made into a poster that hangs outside Crystal's old healthcare classroom. Immediately after graduation, Crystal enrolled in a training program to become a patient service representative. She enjoyed her experience, but realized near the end that the role didn't suit her outgoing personality, and left on good terms – "my supervisor told me to come back any time, and joked that I'd eventually have her job if I did."

In 2018, Crystal was given a chance to participate in a training program with TD Bank that exposed alumni to various opportunities within the bank. Right from the start, she felt comfortable – "we got to visit many locations and learn about the whole business – from the call center, to tellers, to corporate offices – and decide what was right for us." After this eye-opening process, Crystal knew that TD would fit her personality and career aspirations, and enrolled in an intensive teller training program.

Crystal is now employed at one of TD's highest volume stores in the region, and has excelled in less than a year in the role. She was recently promoted to full-time hours, and also graduated from the bank's Tomorrow's Leaders program – an honor earned by only 15 employees across the region each year. She describes the training as "just what it sounds like – gaining skills to grow as leaders in our line of business." In meetings with her current store manager, Crystal is praised for her time management, work ethic, and customer service, which TD describes as providing a "legendary experience." Hoping to one day become a store manager herself, Crystal emphasizes that she wants to hire more YouthBuild alumni – "the school has given me so much that I feel like I have to share these opportunities."
Isaiah '15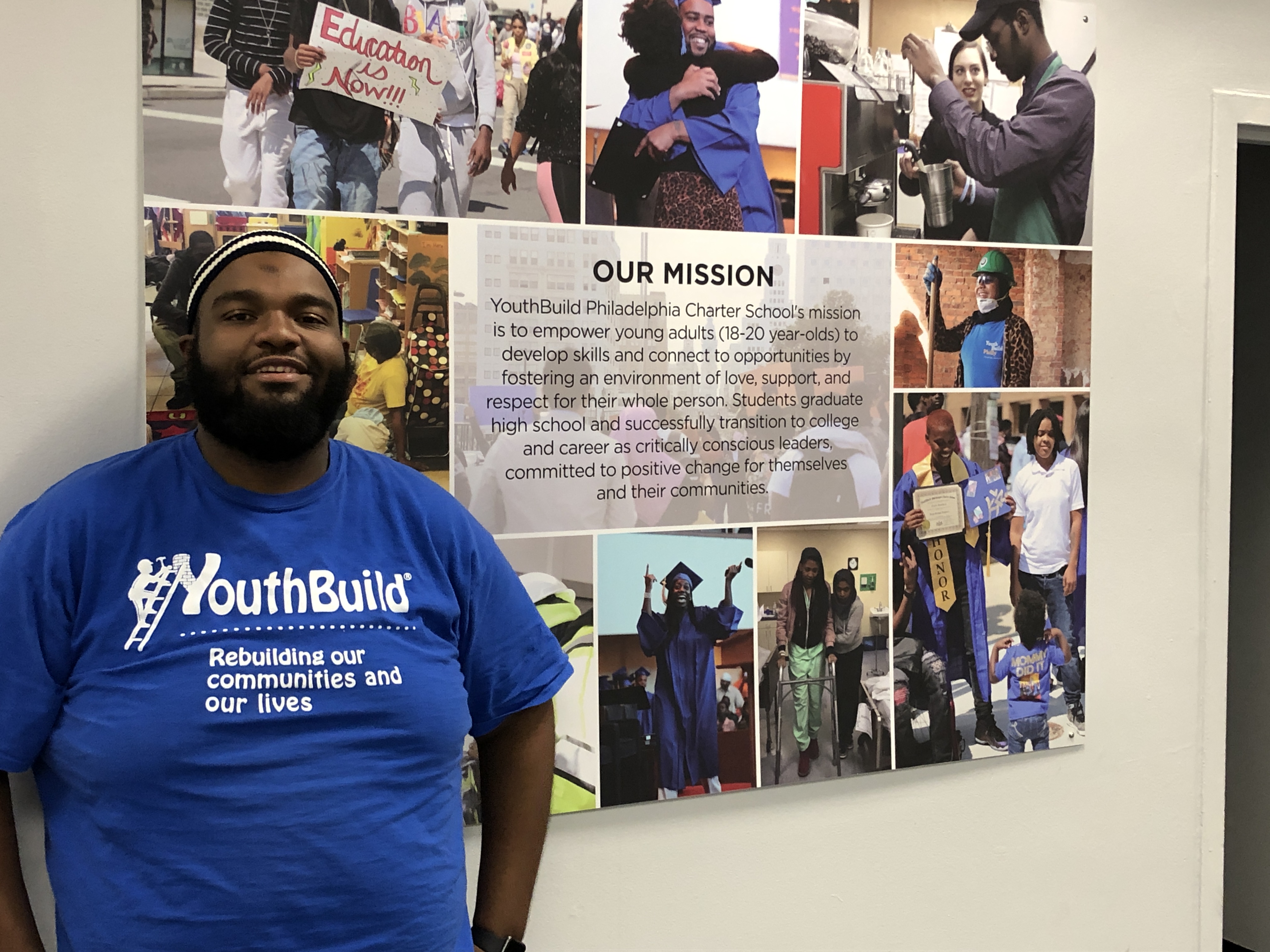 Isaiah (Class of 2015) faced challenges and frustration from the start of his time in high school. Transitioning from middle school to high school, he felt lost because of larger class sizes, distractions in and out of the classroom, and more difficult work. He left after just two weeks, and tried private and online schools before giving up on school during his 9th grade year.

He felt "stuck in life" but maintained with the help of family and friends. When this support system would recommend alternative options, however, he refused out of pride – "I didn't want to have the same results as my other school experiences." That all changed when a family friend who graduated from YouthBuild told him about the school.

From his first time attending an information session, Isaiah was sold. "I hadn't experienced any school like YouthBuild – from day one, my life was changed," he recalls when describing the relationships he formed early on at YouthBuild. He credits a lot of his growth as a leader – and as a man – to his mentor Chris McFadden. "I think mentoring – providing a big brother or big sister type of relationship – is one of the best things YouthBuild has to offer."

Isaiah's year at YouthBuild truly embodied our school's three core values of Perseverance, Excellence and Respect. While losing friends and family members during the school year, Isaiah came to school for support and finished with 95% attendance for the school year; he served as a leader on his worksite, as a Project Manager in building trades; at graduation, he was chosen by staff and classmates to deliver an address after being presented with the "YouthBuild Way" Award, reflective of his demonstration of all three core values.

Even while taking a job at Philadelphia International Airport, Isaiah remained closely connected to YouthBuild. He was a frequent guest for alumni panels, a regular "high fiver" and presenter during Student Mental Toughness Training, and alumni representative at YouthBuild USA's Council of Young Leaders. In 2018, Isaiah completed YouthBuild Philly's inaugural "Grads on Board" program and was elected to the school's Board of Trustees in 2019. His term was brief, however – he resigned from the Board after being hired as a Community Projects Coordinator at YouthBuild Philly.

Having experienced YouthBuild as a student, an alum, a Board member, and now a staff member, Isaiah reflects that "this is always what I've wanted to do – to return as a full-time staff member still feels surreal sometimes." Isaiah hopes to build on his experience at YouthBuild to open Sacrifice Before Success, a non-profit community center that "feels like home" to help under-resourced communities stay connected to school and focused on future success.