This year, a record number of women have enrolled in YouthBuild Philly's building trades training program.  Thanks to support from the Philadelphia Area Labor Management Committee (PALM) and the hard work of an AmeriCorps VISTA serving at YouthBuild Philly this year, those young women in construction have a newly-formed opportunity to network with other women in the field of construction and building trades through a new project called "Sisters in the Brotherhood."
Through Sisters in the Brotherhood, students interview successful tradeswomen in the Philadelphia area about their career and expertise.  Eligible students are selected by YouthBuild staff based on their demonstrated professionalism, career interests, and high-quality work on the worksite.  So far, ten students have had the opportunity to meet with four tradeswomen. Thanks to these interviews, students now have professional contacts who have offered to help them find employment in the field after graduation.
"I was interested in learning about the advantages of being a woman in the workplace," said Brittany, one of the participating students.  "I also learned about some of the disadvantages, and about how it's important to stand your ground and get the job done.  I'm really interested in pursuing a career in carpentry and now I'm one step closer to my goal."
The idea of Sisters in the Brotherhood was brought to YouthBuild by Naomi Alper, Manager at PALM, and brought to life by Vocational Partnership Specialist Kelly Sebetka, a recent college graduate who is serving as an AmeriCorps VISTA at YouthBuild Philly this year.  Kelly does outreach and scheduling for the interviews, and supports students to reflect  and follow up on their interviews. "I have a strong interest in social justice, and an academic background in women's and gender studies," Kelly said, explaining her immediate interest in managing the project. " This project is my favorite part of my service so far because it has such a tangible impact.  Young adults are facing increasing unemployment rates and the building trades are especially hard for women – particularly women of color – to break into."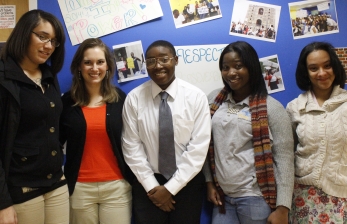 Kelly hopes to organize a Sisters in the Brotherhood speaker series in 2014, in which participating tradeswomen will address the larger student body.