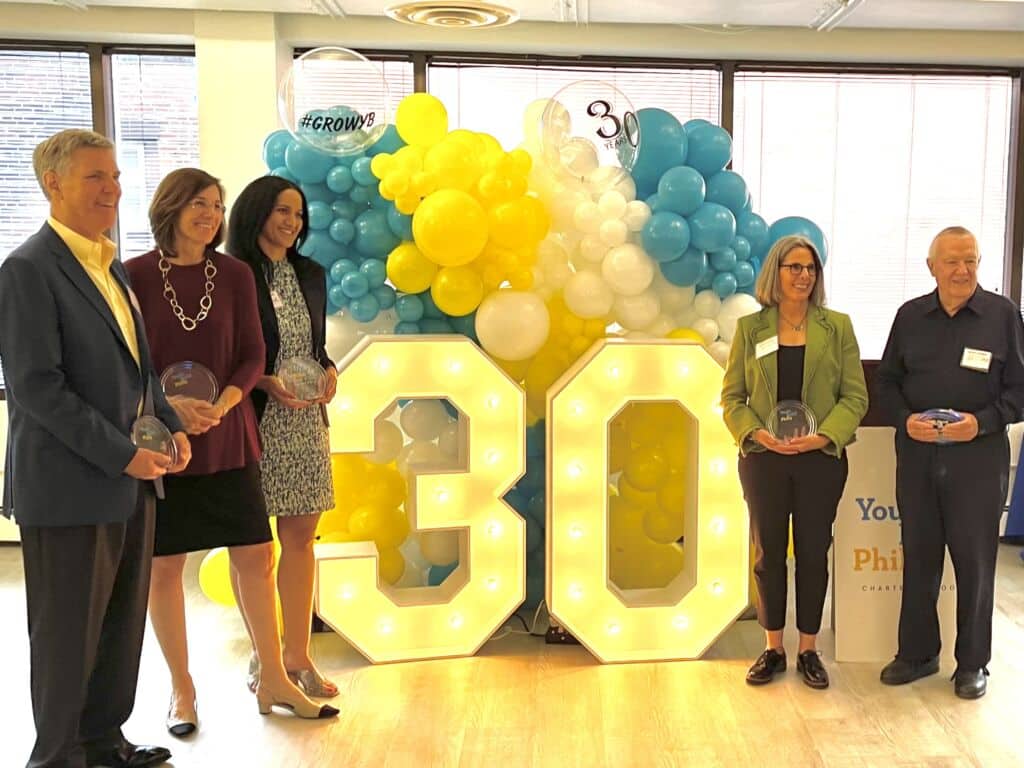 Last week we celebrated our 30th Anniversary at our annual fundraising event #GrowYB! This year's theme was "Sturdy Thirty," which celebrated YouthBuild Philly's long history empowering young people to be the next generation of leaders! Thank you to the more than 125 guests (virtually and in-person) and 13 sponsors who supported this year's event. It was an exciting time commemorating this milestone with our students, alumni, staff, partners and loyal supporters!
This year's fundraiser marked a return to in-person celebrations and raised more than $35,000 to support our school and our students – a new record! Thank you to each of our supporters for their kindness and generosity. Your contribution supports hundreds of young people each year as they seize opportunities to become critically conscious leaders, committed to positive change for themselves and their communities.
Additionally, congratulations to our previous and current Board Chairs, whom we honored for their leadership and significant contributions to our school over the past three decades. We truly appreciate your commitment to our mission.
John Andrew Gallery (founding Board Chair, 1992-2004)
Erin McNamara Horvat (2004-2008; current Board member)
Cindy Skinner (2008-2012)
Tim Daniel (2012-2016; honored during virtual celebration)
Marty Brigham (2016-2019)
Melanie McCottry (2019-present)
Special thanks to our sponsors who helped make this year's event possible! In addition to our presenting sponsors Rycon Inc. and our host sponsors Tamman Inc., we are grateful to have received additional sponsorship support from the following companies and organizations:
Future Focus Sponsors:
Altus Partners
BlueSky Power/OhmGrid
Hilco Redevelopment Partners/The Bellwether District
WPG Consulting
Building Blocks Sponsors:
3859 Lancaster Ave. LLC
DMi Partners
NFP
Foundational Sponsors:
Atkin Olshin Schade Architects
CliftonLarsonAllen
The Flynn Group
Shout out to Mrs. Latosha, our resident event planner, for providing her services. She designed an amazing balloon arch, which added an elegant touch to the overall aesthetic of the event. Her company "Events by Latosha Lynette" also provides LED Marquee numbers (as seen below) for rent. We appreciate you for giving your time, talent and treasure to make this year's celebration one to remember.
Last but certainly not least, thank you to our volunteers and everyone who was able to attend this year's event – it was truly one for the books!
We're already looking forward to next year!
💛💙 #GrowYB22 #SturdyThirty #YB22