For YouthBuild students and staff – and thousands of other Philadelphians – MLK Day represents a day of service and reflection rather than a day off.  This year, our school community spent Monday engaged in two ambitious service projects in North Philadelphia – one at Dr. Ethel D. Allen Promise Academy (a K-8 public school) and another at our Nicetown worksite and the Nicetown CDC headquarters.
At the end of the day we had repainted the Nicetown CDC walls, created over 40 original murals in the hallways at Dr. Ethel Allen, and made dozens of blankets and literacy packets for pre-K students.  We also made great headway at our worksite in Nicetown, where Building Trades students are close to completing the full-gut rehabilitation of two formerly vacant rowhomes.
We are proud of our students for the powerful community impact that achieve year-round, but yesterday was particularly impressive.  We owe great thanks to the volunteers from DMi Partners, Saint-Gobain North America, Starbucks, VILLA, and TD Bank who worked alongside us to affect change in Philadelphia!
Read on for details and pictures:
Transforming Dr. Ethel D. Allen Promise Academy
This year's signature MLK Day project took place at Dr. Ethel D. Allen Promise Academy, a K-8 public elementary school in the Strawberry Mansion neighborhood of Philadelphia.  Except for a few bulletin boards, the school's hallways were previously bare and did not reflect the school community's creativity, ambition, and passion for learning.  YouthBuild Philly offered to add several murals, and the school's principal agreed to open the school as a service site on MLK Day.  In just a few hours, many well-organized teams of students, staff and volunteers painted over 40 murals in the two-story school.  Take a look at these before (left) and after (right) shots:
And click through to see the activity in process:
A YouthBuild Tradition of School Transformation
This marks the fourth year that YouthBuild has contributed supplies and person-power to a school transformation project on MLK Day.  In past years, we have planned and executed school makeovers at Longstreth Elementary, Morton Elementary, and McMichael Elementary.  Our students are passionate about giving back to local schools – including the ones they attended as children – so that the next generation of students will have greater opportunities thanks to a safe and supportive learning environment.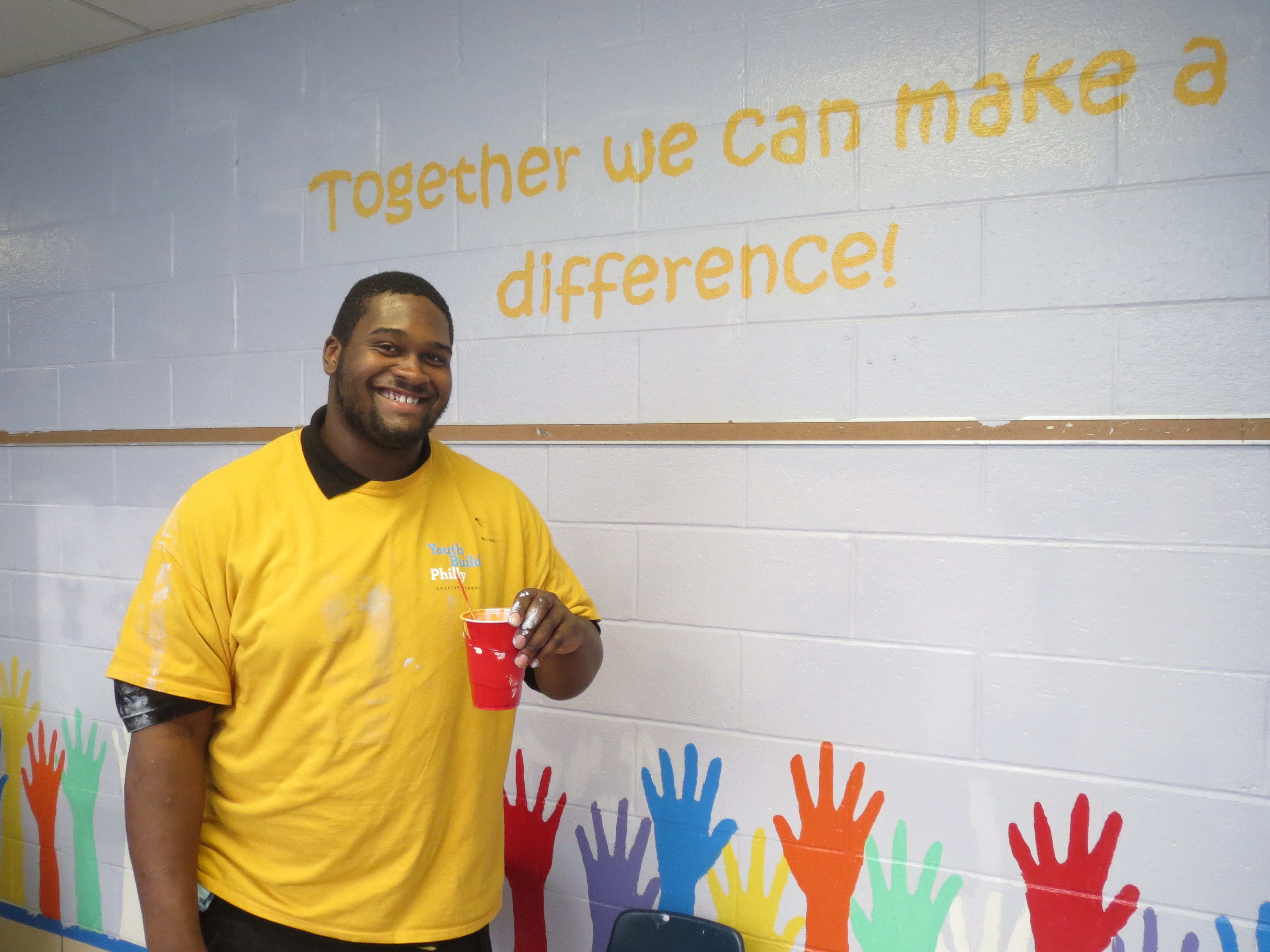 Service in Nicetown
YouthBuild Philly organized a second service site at the Wingohocking St. worksite and at the nearby Nicetown Community Development Corporation offices.  Nicetown CDC owns the two Wingohocking St. rowhomes under renovation by YouthBuild students.  On MLK Day, students worked with Saint-Gobain and CertainTeed volunteers to hang drywall in both rowhomes, and volunteers from DMi Partners provided tech support and painting assistance to Nicetown CDC.
Partners Make it Possible
This year's projects added up to a rather ambitious undertaking, one which would not have been successful without volunteer support from VILLA, Saint-Gobain North America, DMi Partners, and TD Bank.  Saint-Gobain and DMi sent volunteers to both project sites – and VILLA and Saint-Gobain provided financial support for supplies and food.  Along with service, teamwork is one of the central tenets of YouthBuild's model, and we're so glad to have partners who embody that quality and are willing to work with our students as they rebuild their lives and their community.  To all of our supporters — thank you!