This month we are highlighting two remarkable #YBPhilly alumni who took full advantage of the support they received at YouthBuild Philly. Tyrik (Class of 2010) and Nicole (Class of 2017) are prime examples of #YBexcellence. See below to learn more about their journeys.
TYRIK '10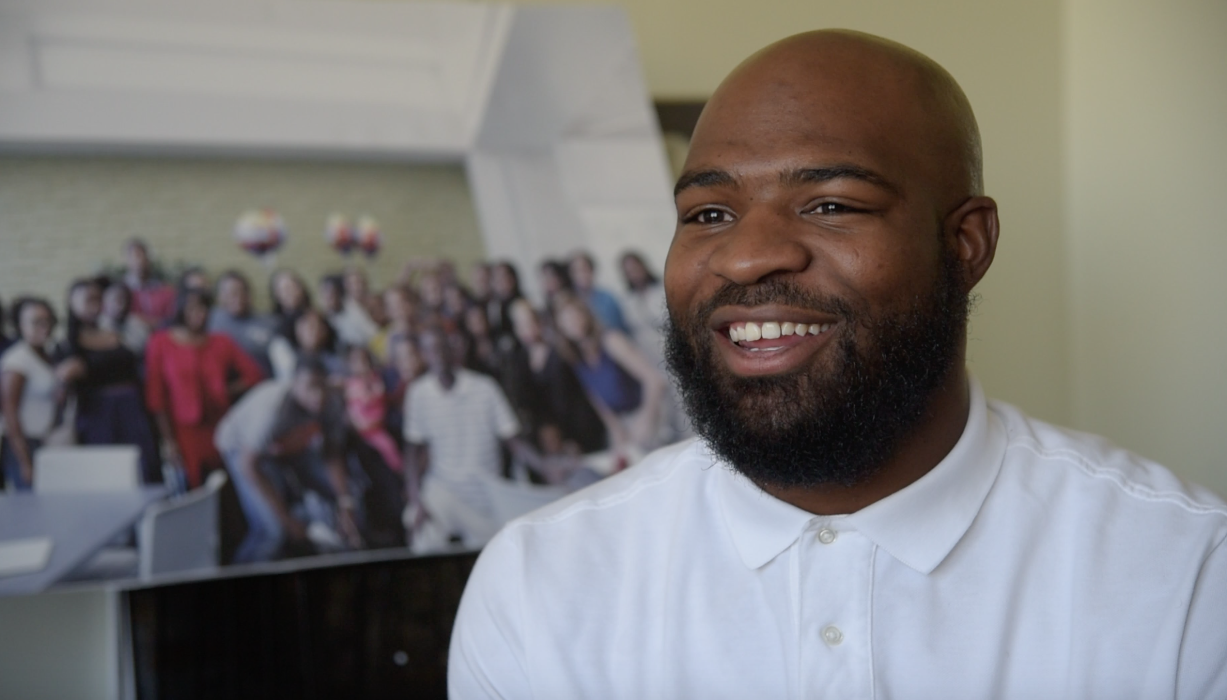 Tyrik ('10) was born a leader. The fifth of ten children, he worked hard from the age of 10 to help support his single mother and his brothers and sisters – taking odd jobs like pumping gas and carrying groceries for tips to help feed his family. As an early teen, the hard work and leadership qualities took a turn, as he led his friends into mischievous, then eventually illegal, behavior.
After a series of escalating events at schools like Philadelphia Military Academy and Community Education Partners, Tyrik was eventually arrested and placed in The Glen Mills Schools. This time in placement unexpectedly gave Tyrik a great chance to be a leader in positive ways. He was elected president of his unit and also started playing sports for the first time, excelling at volleyball, football and basketball – and was even offered a basketball scholarship at a local college. At the time, Tyrik thought "this is my chance to be the first in my family to go to college."
When he was released from Glen Mills before earning his diploma, Tyrik had to find another option for over-aged, under-credentialed students – and had heard about YouthBuild from his older brother and sister, who graduated a few years before. With the scholarship as his motivation, Tyrik came to YouthBuild Philly with a desire to demonstrate his leadership skills and "was given so many new opportunities at YouthBuild, and I liked everything I tried." His positive energy and desire to help his peers find their own potential made him stand out and helped him forge lasting relationships with virtually every staff member at the school. "I matured a lot at YouthBuild – it's deeper than school," he says, listing more than 10 staff members that he had a deep connection to during his time.
Immediately upon graduation, Tyrik left Philadelphia for Johnson College in Scranton, where he earned his Associate's Degree while playing for the basketball team. While playing in an all-star game in Delaware, he was noticed by a coach at Wilmington University – and offered the chance to earn his Bachelor's degree in Behavioral Science, which he completed in 2015.
Tyrik's journey has taken him back to Glen Mills – now as a counselor. He'd worked part-time there since graduating from YouthBuild, and after earning his Bachelor's, two mentors at Glen Mills recommended him for a Dean position at Young Scholars Frederick Douglass Charter School. After interviewing and touring the school, he started working as a Dean the very next day. Within six months, he was hand-selected to become a 5th grade math teacher after the school's principal took notice of his work as a tutor and the connections he was able to make. Even while teaching, he never lost his passion for his work as a Dean –  "they used to call me a Dean-Teacher." During prep periods he roamed the halls to maintain his connection to the entire school, before eventually realizing that he was best-suited to a behavioral role.
Now focusing his youth development full-time at Glen Mills, Tyrik uses his experiences to connect with the young men there to help them reach their potential. "I've been through what they've been through," he explains about his connection with Glen Mills students; "they see that I'm able to be real with them." In addition to this day-to-day work, Tyrik works with a number of community organizations on dropout prevention efforts – but remains dedicated to making sure that even those who do leave school realize it's not too late to turn their lives around. "It just makes me want to keep helping, helping, helping" other young men to realize their potential and achieve their goals.
NICOLE '17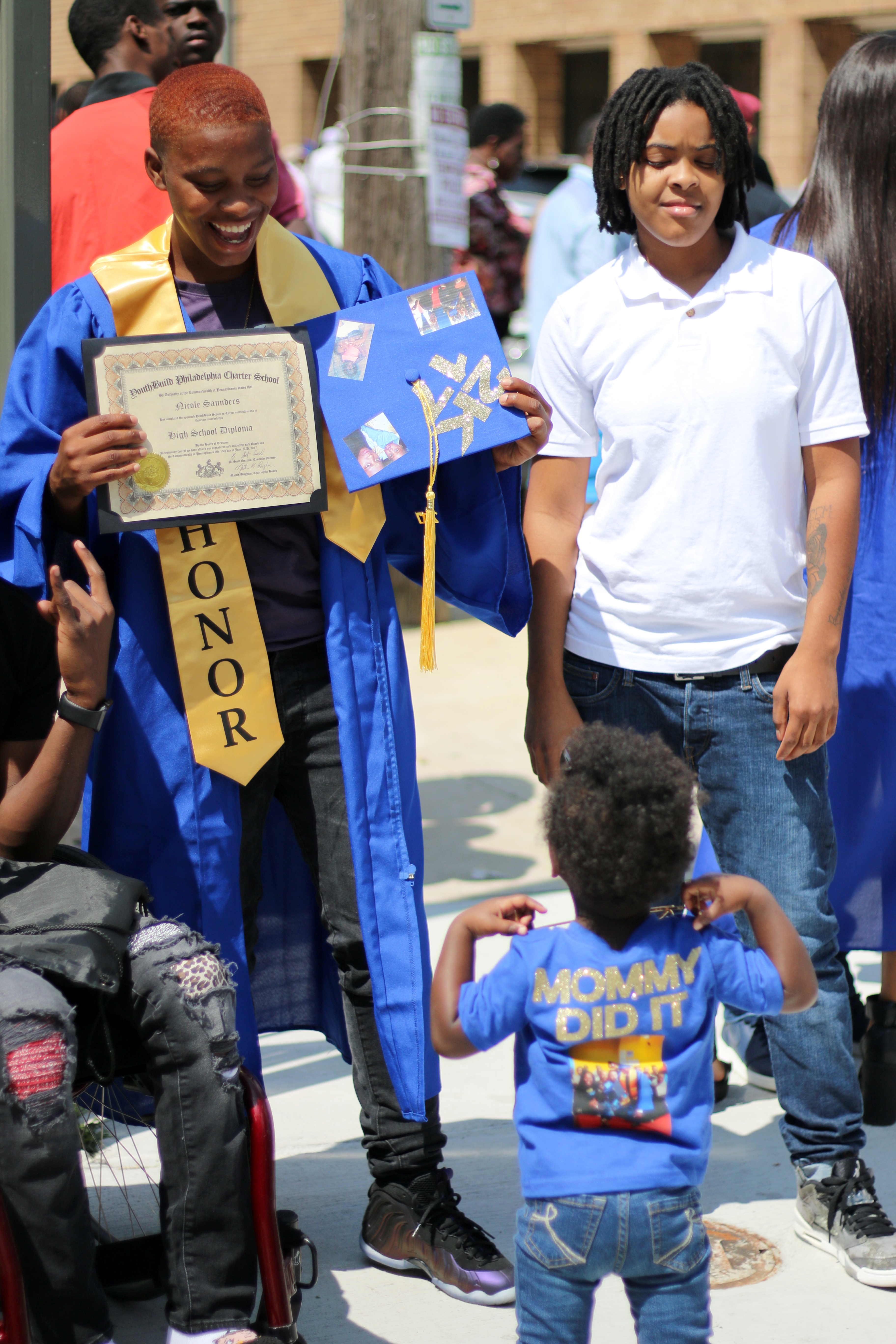 Nicole's ('17) connection to younger generations is literal. As a proud mother of a daughter, her motivation to succeed beyond YouthBuild Philly is also inherent. "Everything I do is for my daughter – I want to show her that she can do anything," Nicole explains.
Before her daughter was born, things weren't always so clear for Nicole. She bounced around from house to house as a child, living with family members and in foster care from the age of 3 until she was 9 years old, when she was finally able to live with her mother full-time. Even then, she fended for herself much of the time, working several jobs at once to help support herself. When she became pregnant during her junior year at Thomas Edison High School, she struggled socially as peers judged, teased and even threatened her. As a result, she left school to focus on becoming a mother.
Continuing to work various low-skill minimum wage jobs while taking on the new responsibilities of motherhood, Nicole realized that her options without a high school diploma were limited, and decided to re-enroll in school – "I had to go back to school, to better myself for my daughter." Her cousin graduated from YouthBuild in 2010, "so I always knew about YouthBuild, and realized this was my best chance to finish my diploma." Once completing mental toughness, Nicole immediately showed herself as a "quiet storm," taking on every leadership opportunity she was offered.
Nicole excelled in YouthBuild's GreenBuild construction track, and had opportunities to set herself up for further career success by attending conferences and networking events, such as the American Association of Energy Engineers' global conference last spring, and also worked with various community and corporate partners to help broaden her knowledge as well as her network. Nicole also benefited from a series of pre-apprenticeship classes on several Saturdays this past Spring – one of a just a handful of GreenBuild students to have this unique opportunity. The classes prepared her for the union exam, which she passed in May.  Even though she had to sacrifice some social opportunities to push forward professionally, she firmly says "it was all worth it – just knowing that I invested in myself." In June, Nicole was one of just 12 students to have finished their graduation requirements early enough to participate in a special early graduation ceremony. Naturally, her daughter came to the stage to present her diploma.
Since graduation, Nicole has been working with the city's local carpenters' union, and just signed a nine year apprenticeship contract – when she finishes, she'll have a minimum of 15 certifications. Her focus is now on flooring installation, but she plans to take many classes offered by the union, including doors, welding, scaffolding, and much more – but appreciates the focus and attention to detail needed in flooring. Once her contract is up, Nicole hopes to open her own construction business, and eventually give back to the community in another way, by opening a homeless shelter and soup kitchen in her North Philadelphia neighborhood.
In addition to setting a strong example for her daughter and younger sister, Nicole's community has embraced her leadership. She humbly says "people come up to me all the time and tell me that they're proud of me, of the things that I've done." Recognizing her own unique path to construction, she's eager to give back and provide opportunities for more young women when she eventually opens her own company.
#GrowYB