From all of us at YouthBuild, Happy AmeriCorps Week!  AmeriCorps is a key YouthBuild partner, and helps us revitalize communities while transforming young people's lives and expanding their worldview through service.  We are proud to be part of a national service movement that has accomplished so much in communities across America:
800,000: Number of individuals who have served as AmeriCorps members since 1994.
1 Billion: Total number of hours served by AmeriCorps members.
5.2 Billion: Number of disadvantaged youth tutored, mentored, or served by AmeriCorps members.
$2.4 Billion: Total amount of Segal AmeriCorps Education Awards earned by AmeriCorps members.
4 Million: Number of community volunteers managed or mobilized by AmeriCorps members in 2012.
15,000: Number of nonprofit, faith-based, and community organizations that AmeriCorps members serve with.
$480 Million: Value of non-CNCS cash and in-kind donations leveraged by AmeriCorps programs in 2010.
To celebrate AmeriCorps week here in Philly, we participated in – what else? – a citywide service event on Monday.  Students joined Red Cross staff  down at City Hall to put together fire safety kits: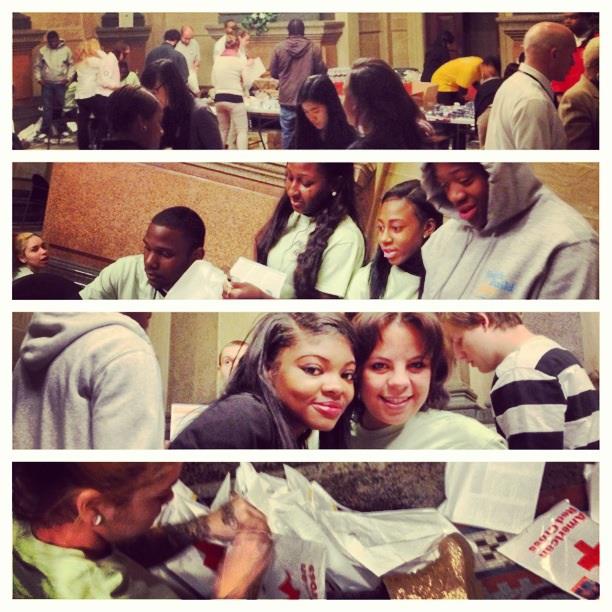 Of course, every week is AmeriCorps Week here at YouthBuild.  For example, last weekend students volunteered with Lutheran Services Refugee Program and got a house all ready for an incoming refugee family to move in.  We're so proud of students who did this grueling work – lots of carrying and rearranging furniture – AFTER catching up on their schoolwork at Saturday school.  Talk about getting things done!
AmeriCorps is near and dear to our hearts – many of our staff are former AmeriCorps members, our students are part-time AmeriCorps members, and this year we have 10 AmeriCorps members as well as 3 AmeriCorps VISTA members providing vital coordination and capacity-building services across our program.  We are so proud to wear the A on our sleeves, and hope that everyone had a great AmeriCorps Week 2013!