On August 27, 2010,YouthBuild Philadelphia's largest graduating class received high school diplomas before a crowd of over 1200 family members and friends. They joined YouthBuild staff and partners, including our friends from The School District of Philadelphia, Thaddeus Stevens College of Technology, Community College of Philadelphia, and the Mayor's Office of Civic Engagement & Volunteer Service, to celebrate the special occasion with 137 members of the Class of 2010.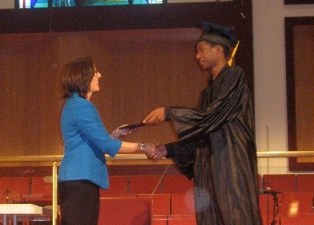 Philadelphia Mayor Michael A. Nutter, who spoke to this same group of students one year ago as they entered YouthBuild, encouraged the graduates to continue on their educational journey.
The ceremony concluded with a rousing performance by the Class of 2010 of YouthBuild State of Mind set to the tune of Jay-Z and Alicia Keys' Empire State of Mind.  The crowd joined in for the chorus:
In YouthBuild, mental toughness where dreams are made of

There's nothing you can't do, now you're in YouthBuild

This school will make you feel brand new

The staff will inspire you, let's hear it for YouthBuild,
YouthBuild, YouthBuild
Check out a video of the performance, our photos on Flickr, and photos courtesy of the City of Philadelphia.