Get to know Jennifer Carroll, our new Career Pathway Coordinator!
Here at YouthBuild we pride ourselves on having a team that's committed to serving the best interests of our students. We are excited to welcome one of the newest additions to the YouthBuild Philly family, Jennifer Carroll, Career Pathway Coordinator. 
Jennifer, Philly native, tells us about her passion for working with young people, her long term goals for her time with YouthBuild, and her favorite cheesesteak spot.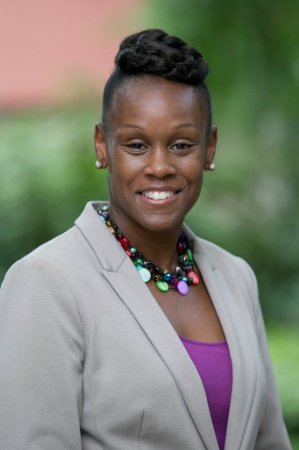 What brought you to YouthBuild Philly?
I started my career as an AmeriCorps VISTA serving at University City High School doing college access work, supporting students with college preparation and post-secondary planning.  That experience solidified my passion for working with young people early in my career.  Since then, after getting my master's degree, I've continued working in student support roles and have become interested in understanding the overarching goal we should have for our students; what is it that we want them to become?  What resources, guidance, and opportunities do we need to be able to provide them in order to support students and allow access to whatever it is that they envision for themselves in their future?  There are so many options for career pathways after high school; I believe it is valuable that these post-secondary options are made accessible to students.
How do you feel about working at YouthBuild?
I am excited to work with YouthBuild students because they are taking ownership of their education, they may have challenges to overcome, but they have made the inspiring decision to be hungry for the support and opportunities YouthBuild can provide.  This is the first space I've been in where it feels like the education is a partnership between staff and students.
What is exciting about this work environment?
There is so much possibility! This is a space that is open to new ideas and to thinking differently about educational approaches.  Our staff and administration seem to have a very thorough understanding of who our students are, both their strengths and challenges, this is so important when communicating with partners.  This dialogue and understanding allows our partnerships to be effective at meeting our youth where they are and helping to lift them up.
What are some of your long term goals for your time spent here at YouthBuild?
To bring intentionality to the way we are bringing post-secondary educational opportunities to our students.  It is important we help our young people really think through their choices and imbed a culture in our school that encourages students to take ownership of their futures and truly understand the flexibility of the options they have after graduation.  I hope to work with colleges in Philadelphia to create exciting spaces for our students, on their campuses and in their classrooms.  The goal of these spaces is to allow our students to explore their possibilities and gain a sense of agency and self-determination that will help them to succeed after leaving the support systems we provide here at YouthBuild Philadelphia.
Is there something interesting you are working on right now?
Today, I had three students starting their first college course at Community College of Philadelphia. This is really exciting because the course will provide them with three hours of college credit and expose them to higher education.  It's exciting to see students hit the ground running so early into the year.
What are some of the challenges present in your work?
It is always difficult to help a student to build self-confidence and recognize their inherent resiliency.  I make sure students understand that they are just as deserving to be in certain spaces as anyone else;  they are just as capable. Students only have to put in the work and maintain that mindset.  The success comes when they can sustain that confidence even when they come up against obstacles and are challenged.
Best place to get a cheesesteak in Philly?
I'm from West Philly, so of course I have to say Larry's near City Line Avenue.  I'd be foolish not to shout out the shop in the neighborhood I grew up in.
Favorite Hobbies?
Bicycling and Running.  I gained a new appreciation for Philly after picking up these hobbies.  There are so many amazing places in this city we drive by everyday, that when on a run, I get to see from a new vantage point!
WELCOME MS. JENNIFER!!