A unique feature of YouthBuild we like to advertise to prospective students is that dropouts who apply to YouthBuild could be enrolled in college courses – or even living on a college campus – less than a year after applying.   Students who apply (in July, let's say), are accepted, and complete their academic requirements on time  could be enrolled in a college course by the next June, if not sooner!  This seeming time warp is created by the multiple summer bridge programs we have built with our wonderful postsecondary partners.
For several summers, eligible students who have completed their academic YouthBuild requirements by the end of Sixth Session have participated in dual-enrollment programs at partner postsecondary institutions over the summer.  Students who "bridge" into partner institutions after receiving their YouthBuild diploma have the advantage of knowing what to expect, and can hit the ground running.  The summer bridge programs – which are free to students – expose students to college life and postsecondary academics while they continue to receive YouthBuild supports.  The programs enable students to start earning college credits as soon as possible, a jump-start that helps them manage the consts of continuing their education.
Last week, a cohort of ten students finished their summer bridge program at Thaddeus Stevens College of Technology, one of our original postsecondary partners.  As in years past, the college hosted a small, heartfelt ceremony to celebrate the bridge students' perseverance through the program.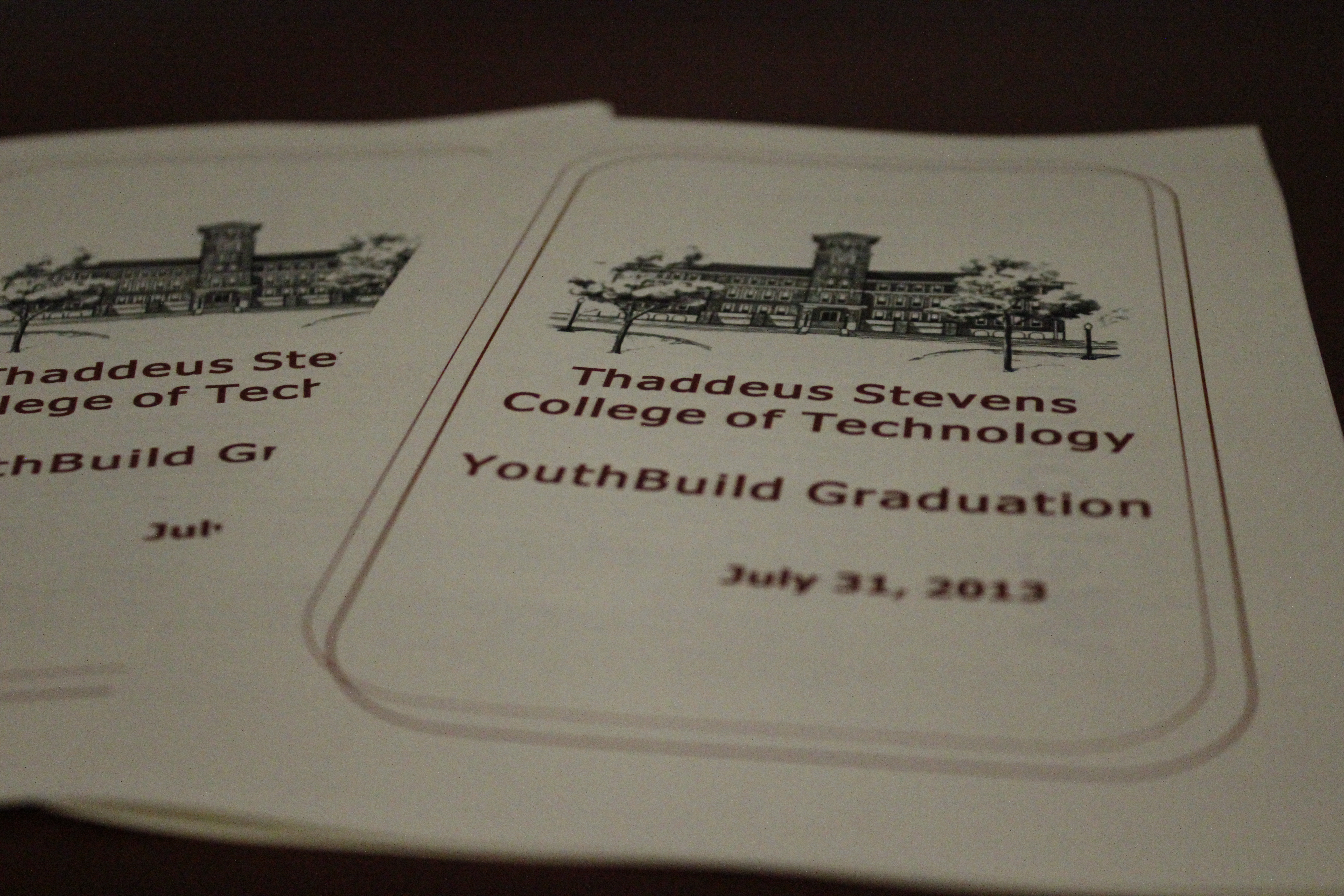 Thaddeus Stevens is a small college in Lancaster, PA and about a 90-minute drive from YouthBuild – so our students stayed in the dorms this summer.  They were regularly visited by YouthBuild staff, helped each other with homework, and also received support from YouthBuild alumni already enrolled at Thaddeus Stevens.  Regular readers may remember Ciera Russum from the Greene St. ribbon-cutting – she just finished her first year at Thaddeus Stevens and was out there this summer helping bridge students acclimate to college life and postsecondary academics!
At the moment, seven YouthBuild students are confirmed to enroll at Thaddeus Stevens College in the fall.  We are waiting to confirm that three more meet all the requirements.  Congratulations to all our Thaddeus Stevens Bridge students on completing the program – a considerable milestone – and many thanks to the administrators and educators at Thaddeus Stevens who have supported and taught our students this summer.  You've help our students reach new heights, and we couldn't do it without you.
Watch out for more posts as we celebrate the completion of several other summer bridge programs this week!