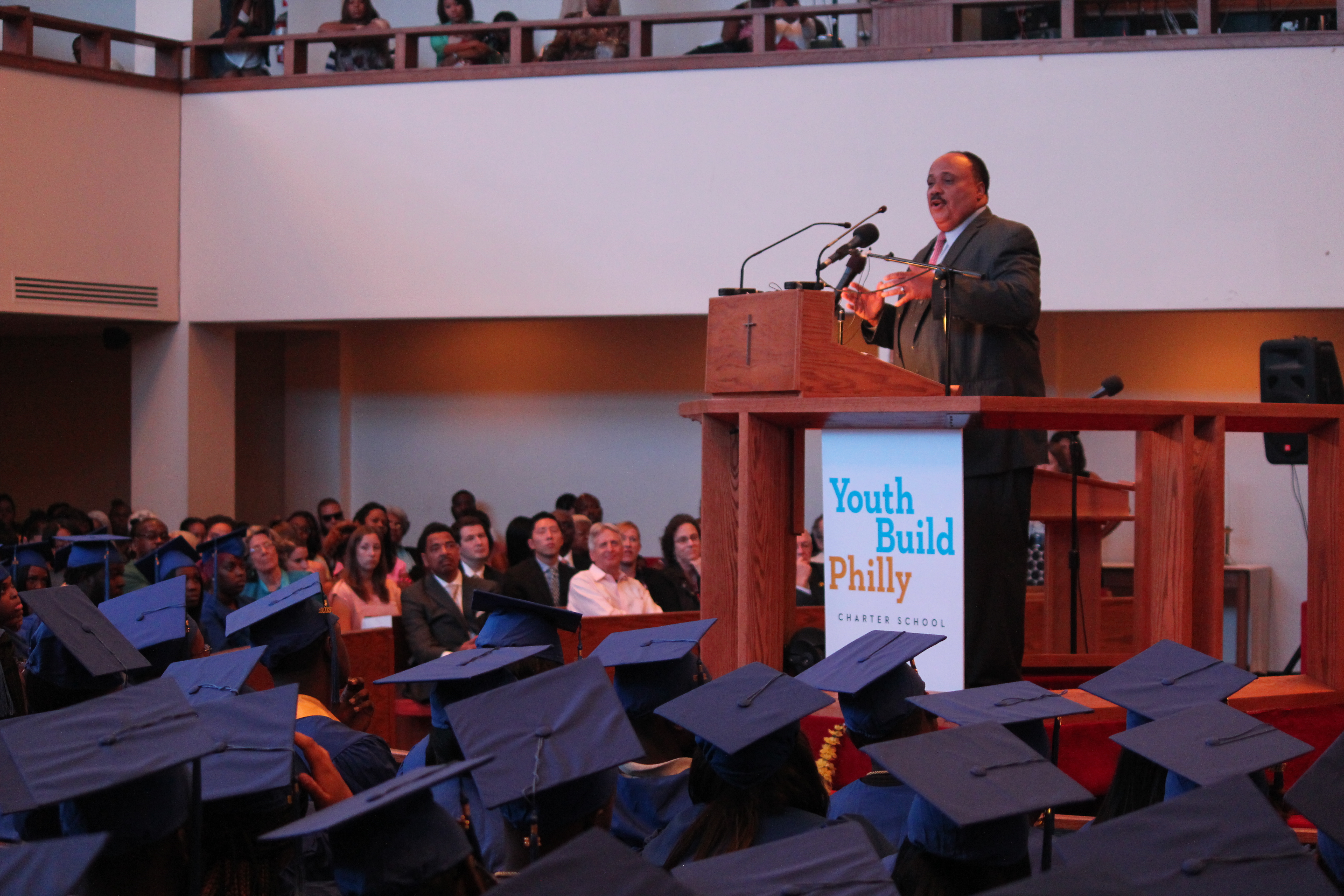 Our school reached a new milestone on August 23, when 127 students in the Class of 2013 received their diplomas at our 21st commencement ceremony.  As of Friday, more than 2,000 motivated young people have graduated from YouthBuild Philadelphia since the program's founding in 1992.  The YouthBuild Philly movement has come a long way since our first class of sixteen graduates!
Many friends and supporters of the program joined us to celebrate the joyous occasion.  Dorothy Stoneman, Founder and CEO of YouthBuild USA as well as YouthBuild founding staff member John Bell attended and handed out awards during the ceremony.  Other guests included our board members, representatives from local elected leaders' offices, and staff from our funding and program partners.
This year's commencement speaker was Martin Luther King III, who was organizing a march in Washington, D.C. the very next day to commemorate the 50th anniversary of the March on Washington for Jobs and Freedom and his father's historic "I Have a Dream" speech.  YouthBuild USA was one of the many organizations involved in the Washington event over the weekend.
Mr. King's speech tied the graduates' accomplishments to the work yet to be done in the name of civil rights and improving communities.  "Civil rights is alive," he said.  "And my dad would be telling us that we have to find a way to create jobs and opportunities.  The mantra in 1963 was Jobs and Freedom.  In 2013 it's Jobs, Freedom and Justice."
"Where you are in your lives is the result of the energy and the fact that you each of chosen to take a step to take charge for your future," Mr. King said.  "While this is an important graduation for each of you – and it's a huge step – it's not the ending.  It really is the beginning of what you should do within your lives."
Class of 2013 valedictorian Derrick Davenport also addressed his fellow graduates, as well as the applicants going through Mental Toughness Training to join the Class of 2014 who were also in the audience.  In a speech titled "Don't Settle for Less, Just Do Your Best," Derrick reflected on his transformation at YouthBuild, saying "With the help and guidance from teachers, staff, mentors and family members, I am no longer that kid on the stoop.  I'm the father paving the way for my son's future."
"Class of 2013, we've shown up and produced high quality work throughout the school year.  On the construction site we have learned the skills to build walls, insert drywall, prime and paint.  On academics, we've written about our own inspirational leaders, conducted research projects, written narrative essays, and shown motivation. But the journey can't stop here.  A diploma isn't enough.  Don't be scared to force yourself to do better.  I challenge you to sacrifice the person you were for who you are willing to become.  You have proven that you are able to persevere through obstacles.  There are always going to be challenges throughout life, but you can't let them stop you.   Always be excellent.  Excellence is a lifestyle; excellence is who you became and who you should continue to be."
To the Mental Toughness applicants, Derrick said: "When there are moments of doubt telling you can't do it, or you're listening to people who say you can't, the real question is: are you willing to work hard enough?"
Other speakers included Excellence Award winner Kyra Butler and Class of 2007 alumna Analicia Lindsay-Whitehead.
Every year, YouthBuild presents a Legacy Award and a Meaningful Impact Award to partners and supporters of the program who have helped YouthBuild Philadelphia strengthen our program and pursuit of our mission, and paved the way for increased opportunities for our students.  This year we were proud to give the Legacy Award to Scott Emerick from YouthBuild USA and the Meaningful Impact Award to Dennis McDonough from Finishing Trades Institute.
To reiterate Mr. King's insight, graduation marks the end of a year at YouthBuild – and the beginning of the rest of our graduate's lives. All of our students have postsecondary plans ranging from full-time employment to the military, and 82 of Friday's graduates intend to continue their education through college or trade school.  Many of our graduates will be the first in their families to go to college.
The costs of college are a significant consideration for YouthBuild students, who often must pay for their own tuition and supplies in addition to supporting themselves and their families.  For this reason, YouthBuild Philly runs a summer campaign to raise money for the Scholarship Fund.  Thanks to our generous individual donors and members of the YouthBuild Board of Trustees as well as the Young Friends of YouthBuild (who organized a bowling fundraiser at North Bowl), we received enough contributions to give out twenty scholarships this year.  Students can use these awards for tuition or other costs not covered by financial aid or scholarships, such as supplies.
To see more photos from graduation, check out our album on Facebook.  Use the comments section below to leave a note of congratulations to our graduates.