March 4— YouthBuild Philly hosted our 2nd Annual Student Showcase as a chance for students to share their gifts, talents and lessons learned throughout the school year with a community of new and long-time supporters of YouthBuild. Our Class of 2020 took full ownership of the showcase with an action-packed agenda created, hosted and led by them.
The show opened up with an energetic welcome from three hosts of the evening: Kaeem Baker, Ana Cortes and Joe Miller. Each host commanded the audience's attention with their quick wit and charisma in between each performance.
Some show highlights included:
Jordan Jackson's presentation of her Senior Project on her career aspiration of being a cosmetologist, a project she has been working on for weeks. During her presentation she visually displayed the process that goes into creating a styled wig cap. Through her presentation, the audience learned more about her cosmetology journey and the art and science behind various hairstyles.
Nicolas Bailey's presentation of his personal art collection left the audience nothing short of impressed. He also shared about his most recent victory claiming 2nd place in individual and team standings in a K-12 open Checkmate Violence tournament hosted by Philly After School Activities Partnerships (ASAP). Nick also encouraged the audience to continuously jump out of their comfort zones and learn something new. "If you want to learn something new, try and learn something new," says Nicholas.
Timir Hennie presented a memoir from his Language Arts class recounting a post-incarceration experience. Timir also shared a film from his film-making enrichment class with collaborative partner, Big Picture Alliance. The film showcased the storytelling and creative skills of Timir and his classmates.
GreenBuild students Chad Hardy, Imir Gadson, and Hamir Farris took the audience on a mini-walking tour to showcase all that they are learning about the green building industry in class with Mr. George.
Ana Cortes did a freehand painting to a song that she wrote and pre-recorded herself!
Shantell shared personal artwork that complimented her "Where I'm From" poem from Language Arts class that she recited to explain her experience as a resident of Philadelphia.
Display of paintings from Arts Expression Class led by YB staff members Ms. Aletta and Ms. Nina:
YouthBuild Philly Board Member and Fundraising Committee Chair, Kiley Smith Kelly, closed out the show with a big "thank you" to everyone that came out to support and made the evening a success!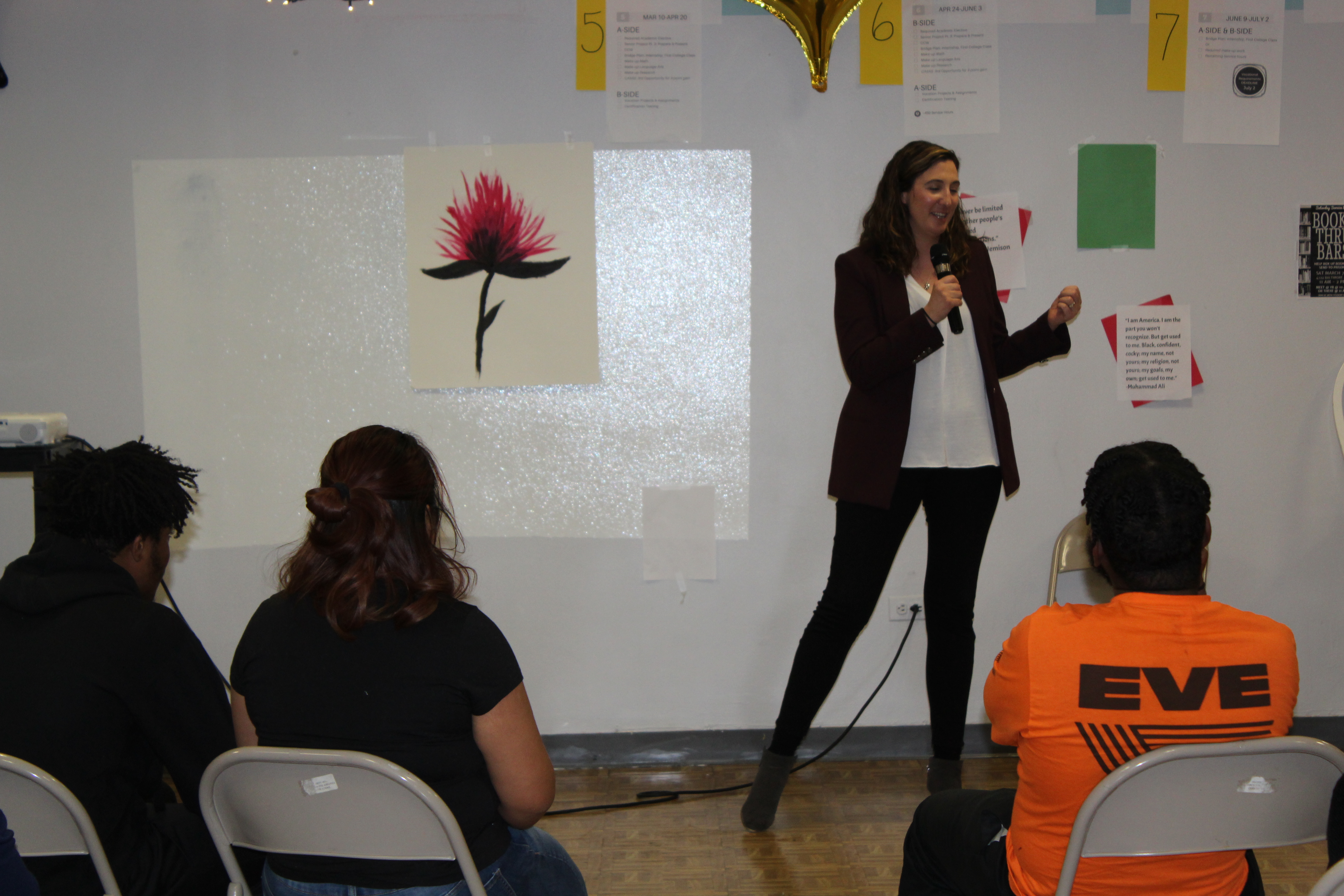 The evening ended with a post-show opportunity for students to mingle and network with all guests in attendance.
See slideshow below for more photos from the event:
Shout out to the Class of 2020 for inspiring us all to be lifelong learners!
If you were not able to join us for this wonderful evening, but still would like to support YouthBuild students, click here to donate! All proceeds will directly benefit student enrichment activities.