At YouthBuild, we know that transformation comes from small gestures, adding up over time.  For example, at YouthBuild:
Each day our students come to school, they build new habits and skills for long-term success.
A hug – or even just a well-timed high five – can turn a bad day around.
One field trip can change a young person's vision for their future.
Every dollar donated helps us reach our goals.
During the holidays, small gestures from our supporters can go a long way. Whether you're making a year-end donation, out shopping for gifts, or looking for ways to be more involved in 2017, here are some steps you can take to help young adults transform their lives:
1. Make a donation to YouthBuild Philly! Every contribution helps us provide life-changing services – from education to job training to counseling and more – to young adults who have previously dropped out of high school.
2. If you shop using Amazon.com, use their Smile program to donate a portion of sales to YouthBuild Philly! Here's the link to get started.
3. Donate school supplies or (new, very gently used) backpacks.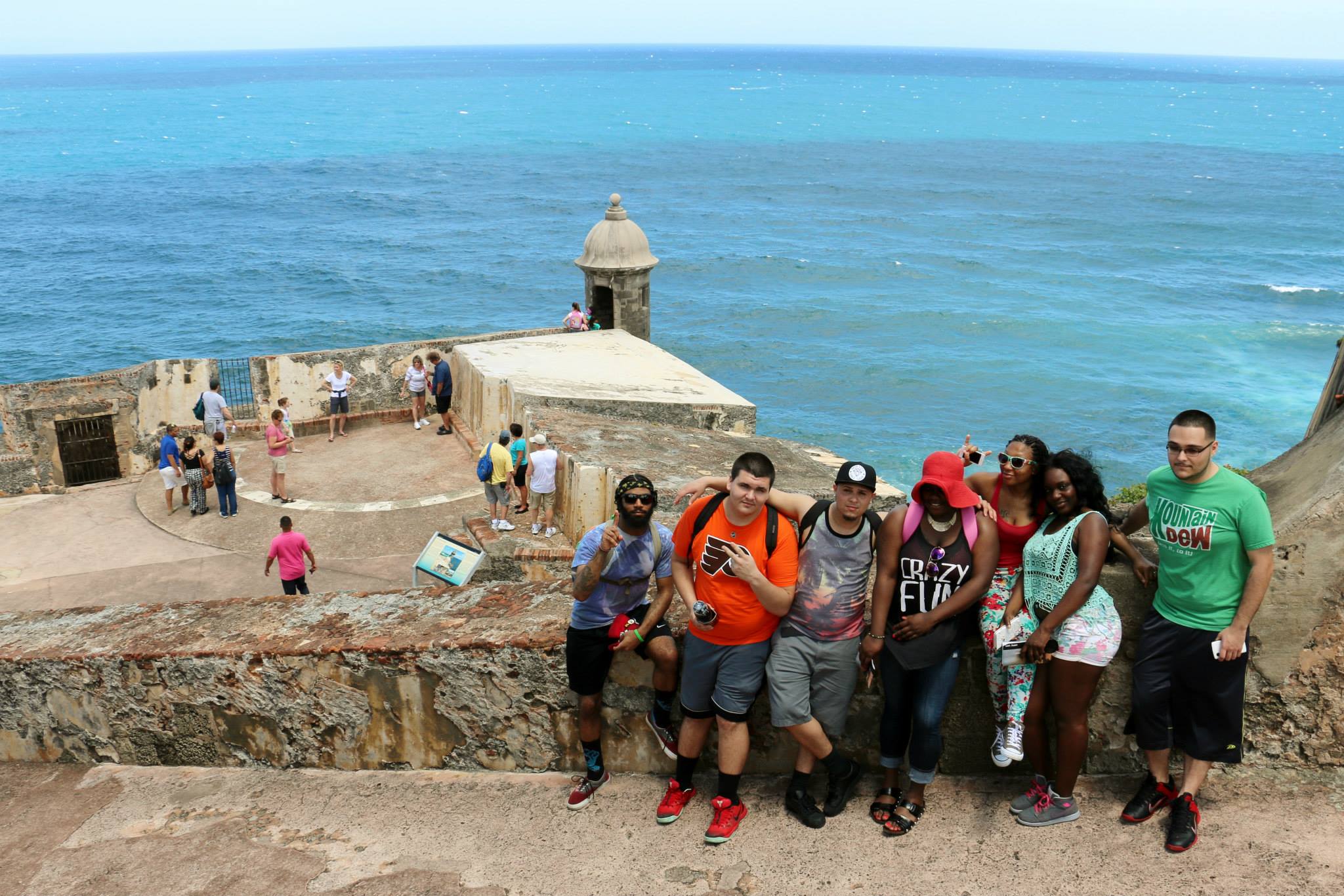 4. Donate suitcases so that our students can go on service trips to places like Utuado, Puerto Rico – for many of them, this is their first time traveling outside the Philadelphia region!
5. Donate canned and dry foods to our food pantry, which helps students who don't have money for lunch or breakfast.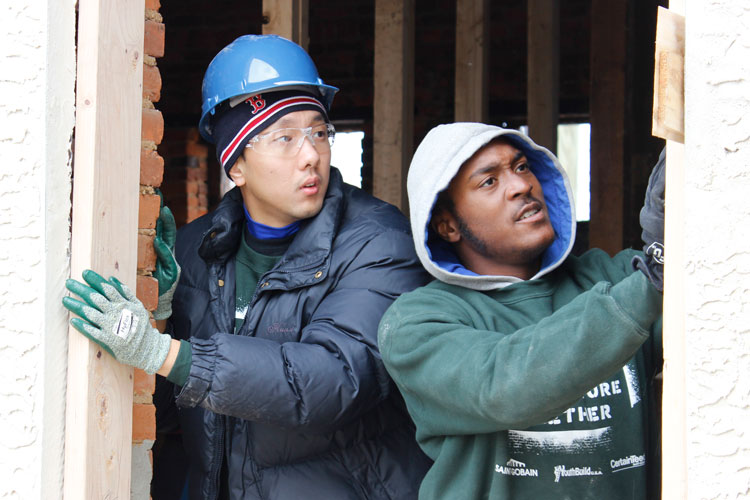 6. Donate your old (but still in good condition, please) coats – it's cold on the worksite, and our students learn better when they feel warm!
7. Sign up to volunteer.  Your experience, talents, and time can make a big difference in the classroom, at the worksite, and in our hallways.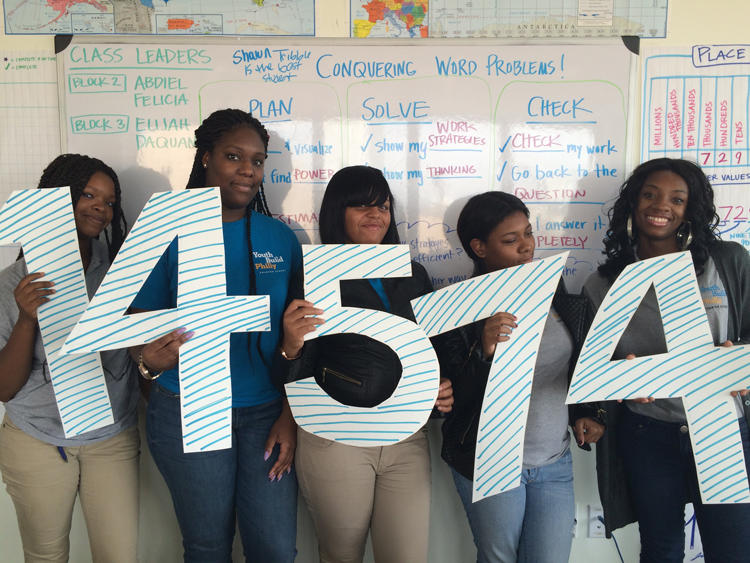 8. Donate to YouthBuild through your workplace's United Way campaign, or distribute our United Way number (14574) to people you know who work in companies that support the United Way.
9. Hire our students/provide internships or other work experiences. Contact us if you would like to know more about internships or employment.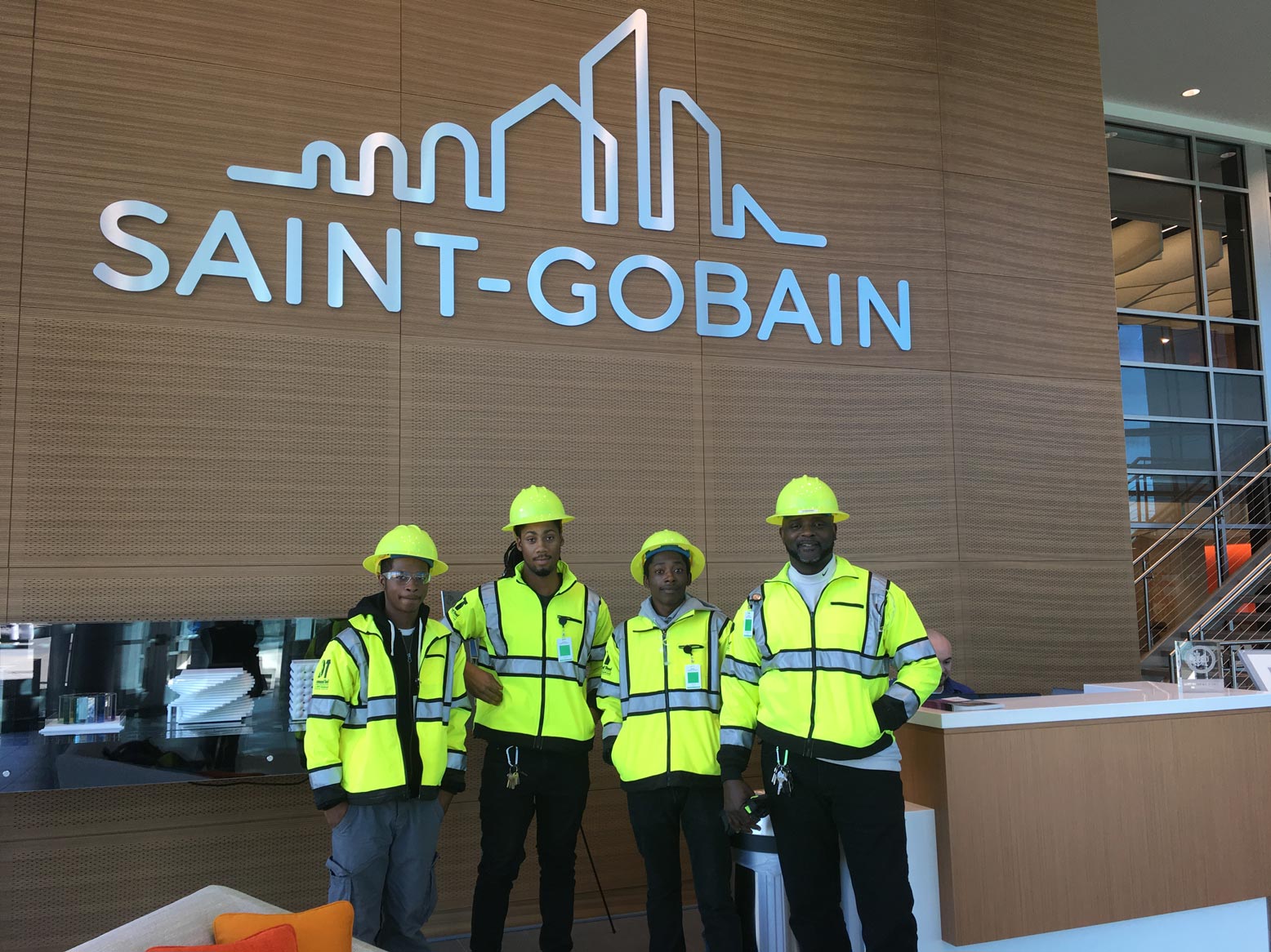 10. Invite YouthBuild students to tour your company's office or campus.
11. Offer unused tickets for Philadelphia sports, culture, and arts events – Eagles, Sixers, Phillies, Flyers, Union, museums, concerts, plays/musicals – our students treasure these experiences! Contact Meredith Molloy if you have tickets to donate to students.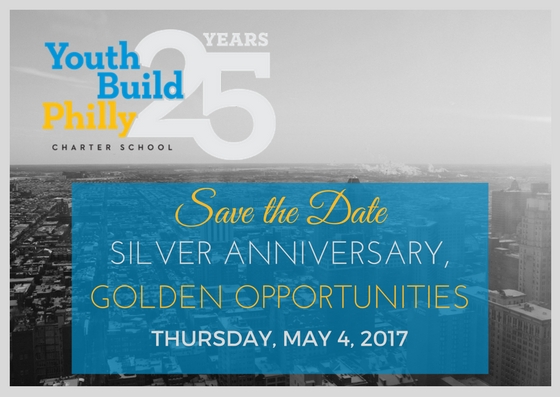 12. Businesses: Commit to sponsoring our May 2017 fundraising event so that all ticket and silent auction sales can directly support our program. Contact Ted Molloy for event details.
13. Attend a site visit, or if you've already attended one, bring a friend or two to the next one. Our next one is December 2!  Email Eva Lexie for details and to RSVP.
14. Sign up for our monthly newsletters so that you know what's new and upcoming at YouthBuild.
15. Share our website with a dropout, and let them know we'll start accepting applications early next year.
16. Share one of our videos with your contacts to help spread the word.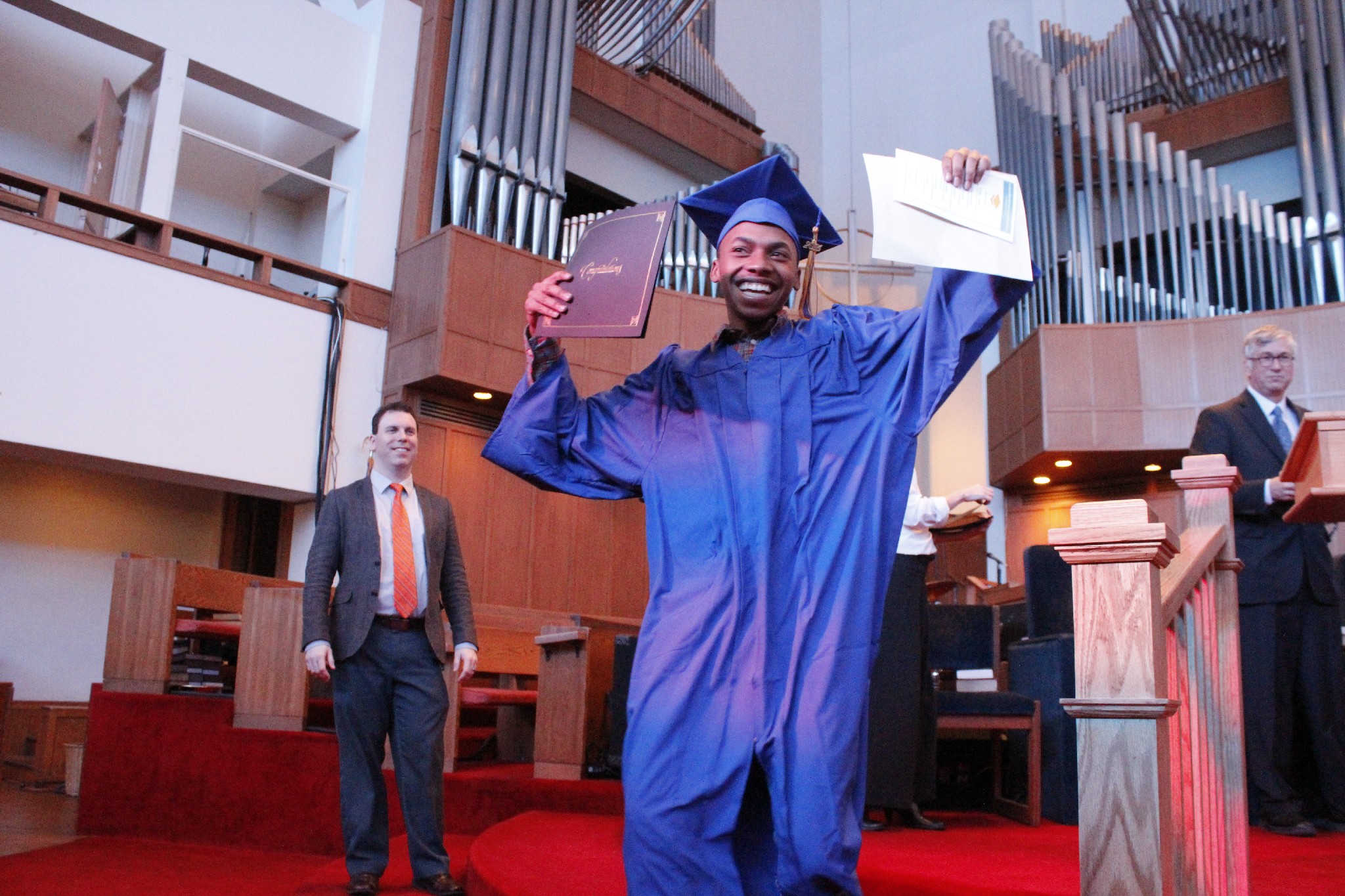 17. Give a scholarship ($500) to a YB grad in the name of a loved one.
18. Be a mentor – to a YouthBuild Philly student, or someone else in need.
19. Lead a workshop in your area of expertise to aid with our students' professional development.  Contact our volunteer coordinator to learn more!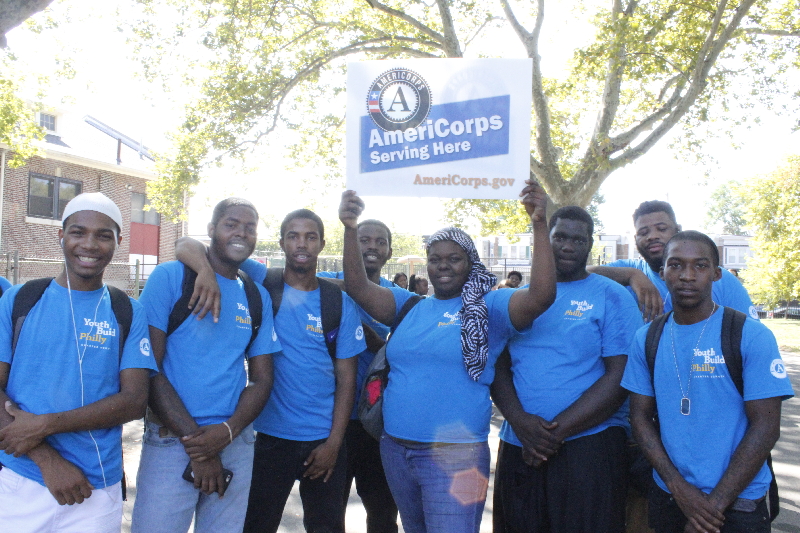 20. Follow our social media channels and share them with friends. Facebook? We like it! Instagram? #absolutely. Twitter? It's our favorite!
21. Donate toys, books and gently-used children's clothing (newborn – 5 years old) for our students' families – or organize a drive with your friends and colleagues!
22. Support non-profits that give our students and graduates additional opportunities and services. Helping disconnected young adults succeed is a collaborative effort. We're big fans of Covenant House, PowerCorps, Aid for Friends, Broad Street Ministry, The Attic Youth Center, Hand2Paw,  and Philadelphia Community Corps! This list could go on and on – let us know if you want more leads on Philly nonprofits who serve opportunity youth.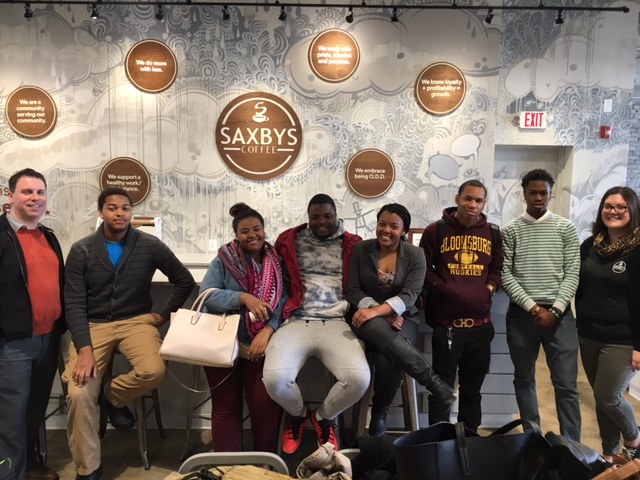 23. Buy gifts for your family and friends from our customer service training & employment partners. Our supporters include Saxby's, Kayuh,  Insomnia Cookies, ShopRite, and Gap, Inc. stores – and who doesn't love a Starbucks gift card? 
24. Support a local cafe – and former foster youth learning job skills – by buying goods from our friends at Monkey & The Elephant!
25. Reserve your ticket to or our 25th Anniversary celebration on May 4! 
Questions about events, in-kind donations, or anything else on this list? Email Communications & Development Associate Sarah Peterson: speterson@youthbuildphilly.org